We help the
broker


in their daily management
Leading platform for innovative insurance brokerages
Advantages for brokerages
All-round solution for insurance mediation and efficient brokerage management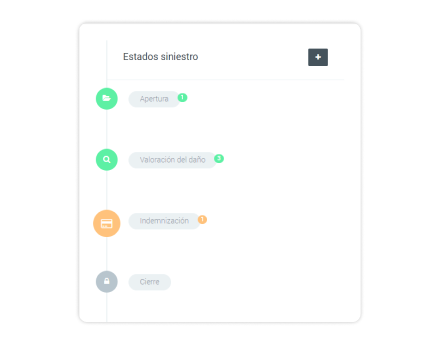 Follow-up
Our platform allows efficient monitoring of the operations under negotiation, and automatically records quotes and rejections of the companies.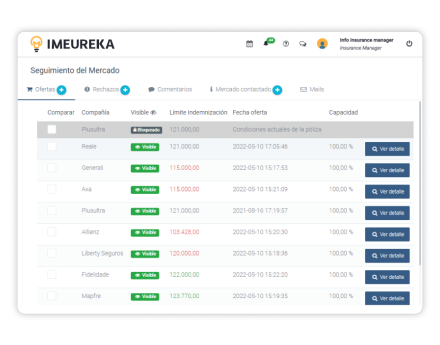 Marketplace
Brokers can publish risks in our Marketplace where more than 150 markets filter and offer according to their risk appetite, increasing contracting opportunities.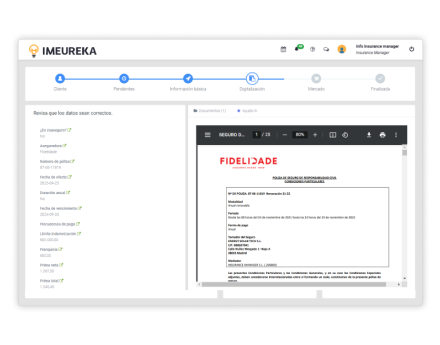 Accessibility
IMeureka offers brokers a user-friendly platform to manage clients and policies efficiently, with email synchronization and intelligent email reading, so you don't miss out on any opportunities.
FAQ
FREQUENTLY ASKED QUESTIONS
At IMeureka we offer insurance brokers a comprehensive brokerage management solution with unique business-oriented technology and process efficiency. Through our marketplace, we provide brokers with the largest offer of insurance solutions, which allows them to find alternative capabilities that help them win new business.
IMeureka is a business management platform. It is the perfect complement to your ERP. At IMeureka you will find the ideal solution to make your work efficient in relation to your negotiations with the market.
It is not necessary to transfer the entire client portfolio to the platform, as they can be incorporated gradually as required. Customer data is protected by IMeureka and data privacy regulations are complied with.
You can use IMeureka, migrating your entire portfolio, or simply use it for the operations you need. In the onboarding of your brokerage, we will incorporate the users you need, your usual contacts from the insurance sector and we will synchronize your email to the platform. It is a very simple process, we take care of everything.
Yes, IMeureka offers a complete view of the history of the client portfolio, which allows for an analysis of its evolution and informed decision-making.
Yes, IMeureka offers a constant update of the client portfolio, which allows a more effective and timely risk management, thanks to our connection with TIREA (CIMA pilot)
IMeureka is a solution that can be connected to any platform that adds value to the broker. The ultimate goal of IMeureka is to form a digital ecosystem with its own and third-party solutions that give the broker the best solution on the market.
At IMeureka you can negotiate any type of risk, regardless of the branch or type of client. Some examples could be: Material Damage, RC, D&O, Cyber, Surety, Collective Accidents, Credit...
Contact
Leave us a message
Address
Paseo de la Castellana 200,
28046 Madrid
Open Hours
Monday - Friday
9:00 - 17:00